Linksys WRT32X AC3200 Dual-Band Wi-Fi Gaming Router with Killer Prioritization Engine
₨53,200.00
Out of stock
Want Discount ?
You pay

₨

52,900.00
If you use Direct bank transfer

You pay

₨

53,000.00
If you use Paypro - Bank transfer / Debit Card / Credit Card
Delivery – Same day in KHI / LHR (if ordered before 11am)
Delivery – 24 to 72 hours in other cities
Warranty – 01 Day Checking
Guaranteed Original Product.
Discounts available if you bank transfer.
Description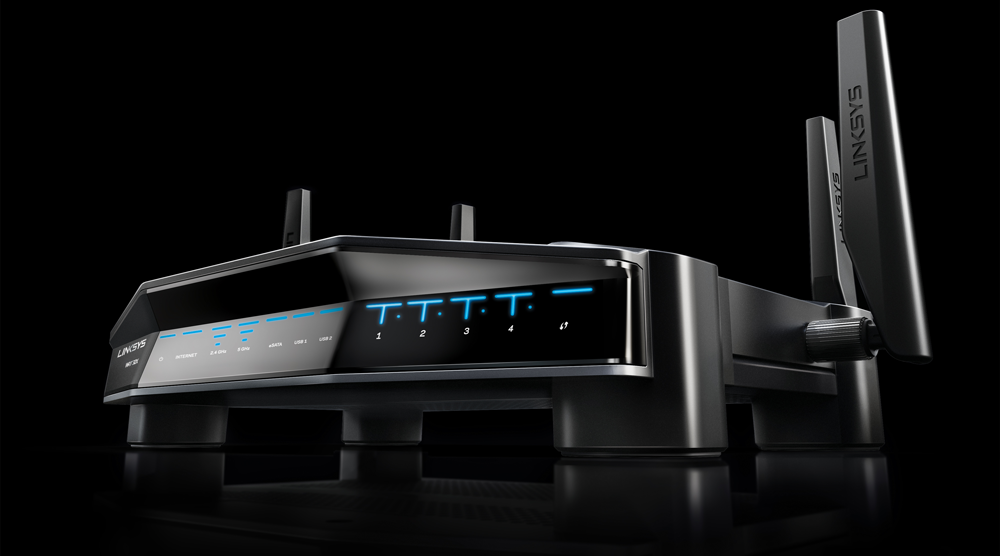 BUILT EXCLUSIVELY FOR GAMING
Engineered purely for gaming, the Linksys WRT32X Gaming Router with Killer Prioritization Engine provides a dominating home network.
This high-performance gaming router synchronizes with Killer-enabled PCs–from brands such as Alienware™, Gigabyte™, MSI™ and Razer™–to reduce peak ping times by up to 77% and deliver smooth, lag-free gaming.*
You gain an unrivaled advantage over your competition in MOBAs, shooters, and other games where a single millisecond can mean victory or defeat.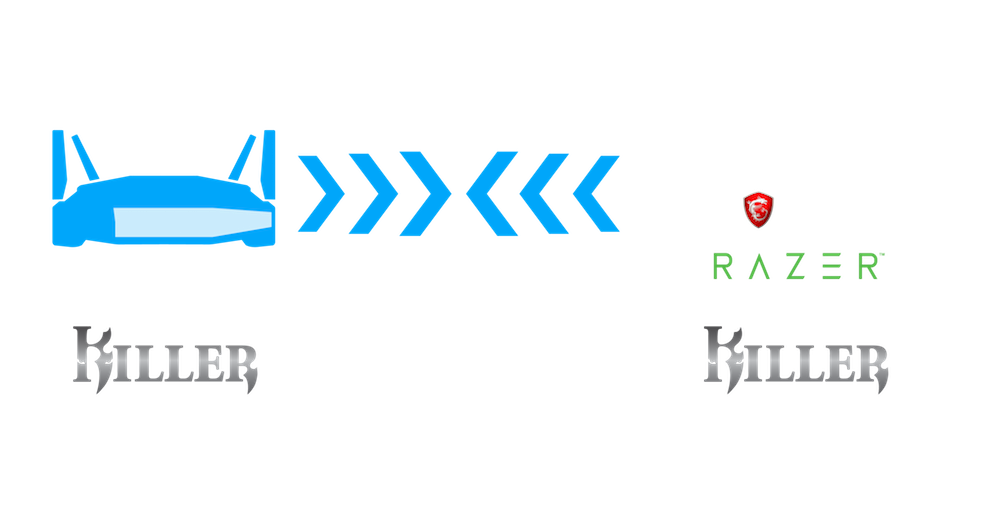 LOWER PEAK PING UP TO 77%*
We partnered with Killer Networking, industry leaders in gaming networking, to develop a Wi-Fi router for hard-core gamers. The WRT32X uses the Killer Prioritization Engine to identify, prioritize, and accelerate your gaming traffic above all other devices and activities on your home Wi-Fi.
Gaming PCs may experience less than optimal ping rates when the network is under load. When matched with a Killer-enabled PC, the WRT32X gaming router automatically syncs using the Killer Prioritization Engine to reduce peak ping by up to 77%.* The result, unparalleled gaming-conquering response rates no matter what other devices on the network are doing.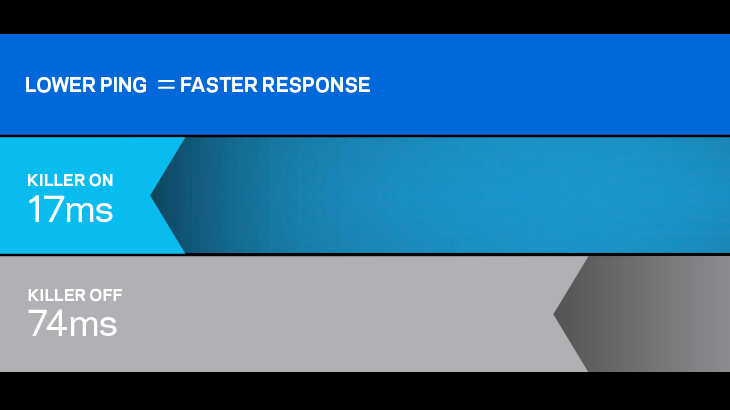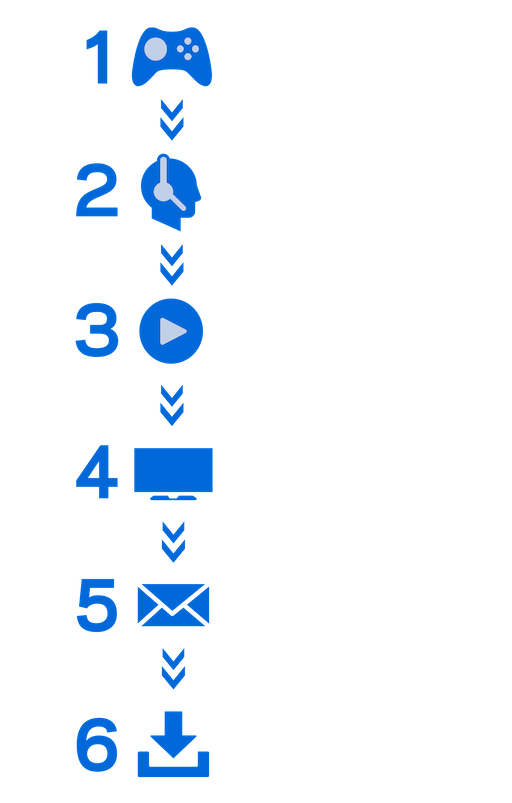 CUSTOM-BUILT FIRMWARE BOOSTS PERFORMANCE
Enjoy exceptional online gaming performance from specially engineered software. Gaming-optimized firmware works to minimize response times, thus providing a virtually lag-free connection when you need it most: in the midst of a heated competition.
You won't lose your edge even if your roommates or LAN party are streaming, gaming, or strategizing with you over voice chat about how to take down the competition.
ULTRA-FAST WI-FI
The WRT32X gives you dominating Next-Gen AC Wi-Fi speeds up to 3.2 Gbps that keep you at the top of your game. Experience exceptionally smooth, responsive gameplay. The Killer Priorization Engine will reliably fast-track gaming traffic whether you're using a wired or Wi-Fi connection.
---
POWERFUL INTERFACE FOR ULTIMATE CONTROL OVER WI-FI TRAFFIC
The intuitive interface lets you see your home's Internet traffic. You can monitor connected devices, manage advanced networking settings, and conduct speed tests with just a few mouse clicks.
With the gaming-focused UI dashboard, you can check network traffic speeds, check VPN and network storage status, see Killer device connection status, and also control port-forwarding. You'll know at a glance whether your PC or console games are performing optimally.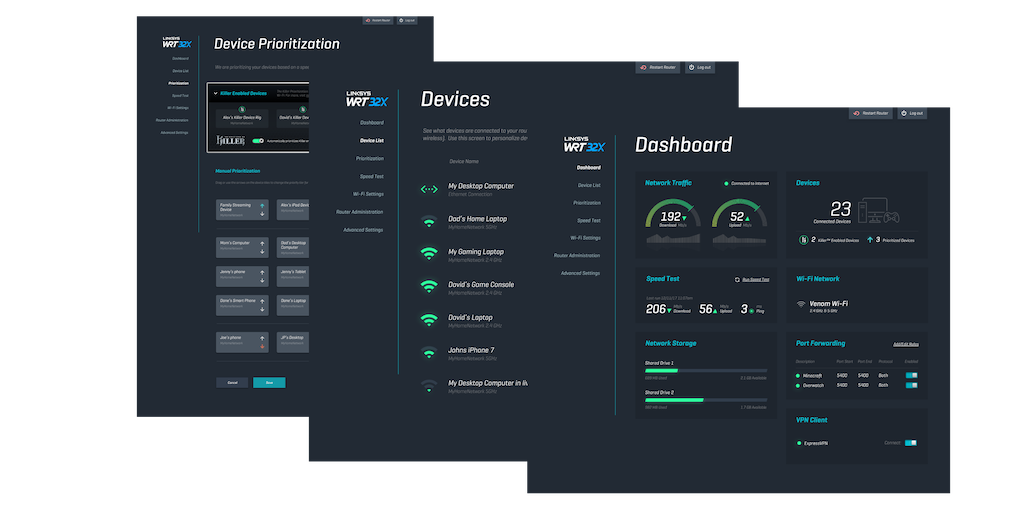 MU-MIMO PROVIDES STUNNING MULTI-DEVICE PERFORMANCE
Thanks to MU-MIMO technology, the WRT32X Gaming Router can handle even the most bandwidth-intensive environments. MU-MIMO builds upon longtime broadcasting cornerstones–such as spatial multiplexing, beamforming, and scheduling algorithms–to boost overall throughput and distribute bandwidth fairly between devices. Each connected client device receives its own dedicated data stream, so users won't have to compete with one another for bandwidth. Multiple users can simultaneously engage in 4K video streaming, play online games, and perform other data-intensive tasks without latency or buffering.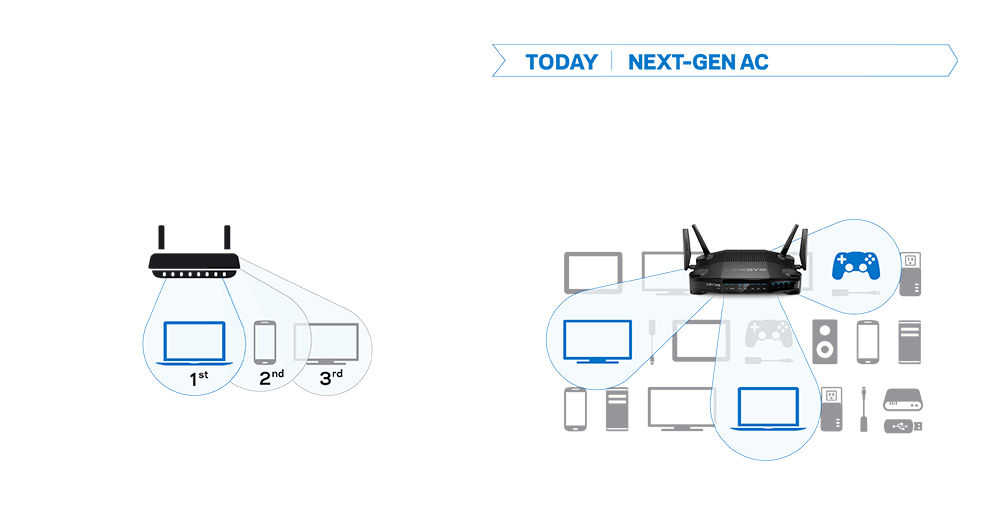 DFS CERTIFIED
Dynamic frequency selection (DFS) certification from the FCC not only allows operation at 160MHz enabling Tri-Stream160, but it also triples the channels available at 80MHz so the WRT32X can operate in the clearest airspace that other routers aren't allowed.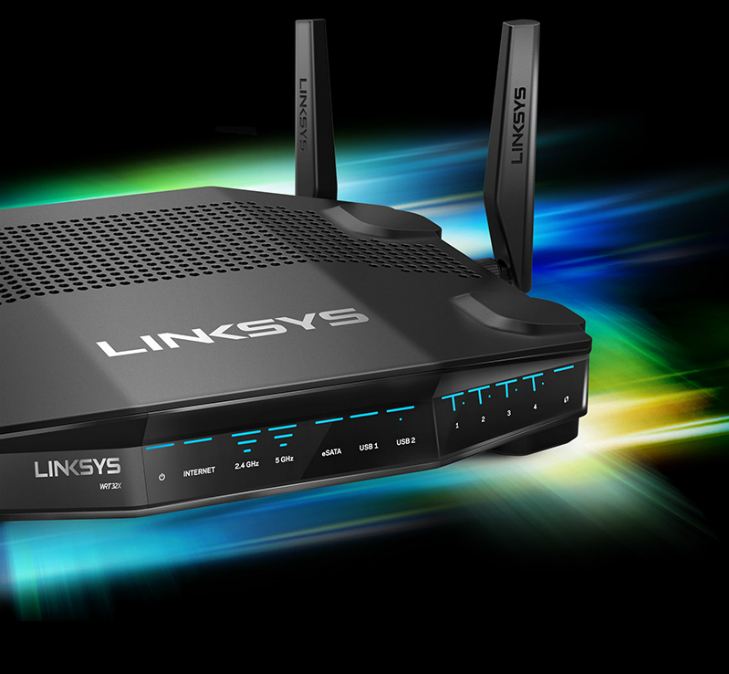 DESIGNED TO DOMINATE
The WRT32X features a performance-grade 1.8 GHz dual-core CPU, custom-built firmware and user interface, four external adjustable antennas with high-power amplifiers, and high-efficiency heatsink. Aesthetically, it boasts a stealthy design, sleek matte-black finish, and blue LED lights-the perfect complement to any gaming environment.
LINKSYS AUTO FIRMWARE UPGRADE
Linksys automatically pushes software updates to your router overnight and seamlessly brings the latest features and security to your home network. The WRT32X will be consistently getting better over time.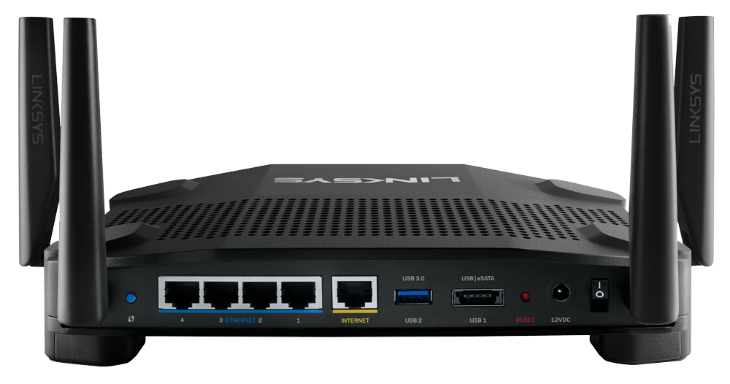 PRO-GRADE GIGABIT ETHERNET CONNECTIVITY
The WRT32X gaming router also features a pro-grade Gigabit Ethernet switch with four ports, making it ideal for connecting multiple gaming rigs or consoles at your next LAN party.
Connect game consoles, gaming laptops, 4K TVs, additional switches, and other devices
Ultra-fast eSATA port for connecting shared network storage devices at high speeds
USB 3.0 port for connecting hard drives or USB memory sticks
A CLOSER LOOK AT THE WRT32X
A CLOSER LOOK AT THE WRT32X
TECHNICAL SPECS
Wi-Fi Technology:
Dual-band AC3200 MU-MIMO w/ MU-MIMO, DFS
Network Standards:

802.11b
802.11a
802.11g
802.11n

Wi-Fi Speed:
AC3200 (N600 + AC2600)
Wi-Fi Bands:
2.4 and 5 GHz (simultaneous dual-band)
Wi-Fi Range:
Very Large Household
Number of Ethernet Ports:

1x Gigabit WAN port
4x Gigabit LAN ports

Other Ports:

One(1) USB 3.0 port
One(1) Combo eSATA/USB 2.0 port
Power

Antennas:
4x external, dual-band, detachable antennas
Processor:
1.8 GHz dual-core
LEDs:
Power, Internet, 2.4 GHz, 5 GHz, eSATA, USB1 (USB 2.0), USB2 (USB 3.0), LAN 1–4 (activity/10/100 Mbps), LAN 1–4 (1 Gbps), WPS
Wireless Encryption:
WPA2 Personal
VPN Support:
Storage File System Support:
FAT, NTFS, and HFS+
Easy Setup:
Browser-based Setup
Certified Operating Systems:
MacOS (10.X or higher), Windows 7, Windows 8.1 (Works with Windows 10)
Minimum System Requirements:

Internet Explorer® 8
Safari® 5 (for Mac®)
Firefox® 8
Google Chrome™

Dimensions (LxWxH):
245.87 x 193.80 x 51.82 mm(9.68 x 7.63 x 2.04 in.) without antennas
Weight:
798.32 g(28.16 oz)
Security Features:

WPA2
128 bit AES link encryption

Regulatory Compliance:
FCC class B
Other Certifications:
FCC DFS Certified
Additional Information:
Open Source ready for OpenWrt
Power Supply:
Input: 100-240V ~ 50-60Hz; Output: 12V, 3.0A
Additional information
| | |
| --- | --- |
| Weight | 0.226796185 kg |
| Brand | Linksys |
| Design | bf2020 |
Reviews
Brands (1)